1. What is Niacinamide?
Niacinamide is a form of Vitamin B3, also named Nicotinamide, Nicotinic acid amide, Vitamin B3. It is a water soluble substance with solution stability and light stability. The stability is best in a solution with a pH 6. Because of its extremely small molecular weight, Niacinamide penetrates deeply into skin through the stratum corneum. And then it blocks melanin transmission and accelerates metabolism. In medicine, it can also be used for treatment of pellagra, stomatitis, liver diseases and solar dermatitis. Nowadays, Niacinamide uses for skin care has been increasingly popular in cosmetics.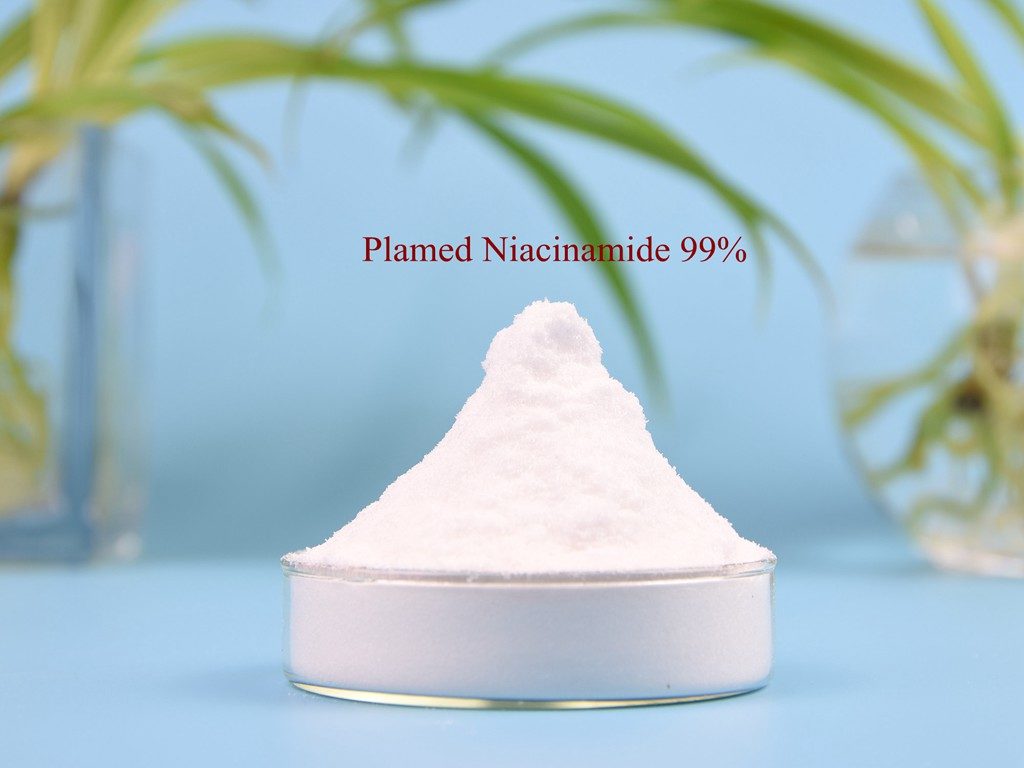 2. Niacinamide Benefits
Nicotinamide can act on the already produced melanin; it reduces melanin's transfer to surface cells, instead of inhibiting tyrosinase activity or cell proliferation. Thereby, Nicotinamide affects skin pigmentation. In other words, Nicotinamide can promote metabolism of melanin keratinocytes. Moreover, it can also interfere with the cell signaling pathway between keratinocytes and melanocytes. Then it decreases melanogenesis, and plays a preventive role.

Clinical trials have shown that using nicotinamide cream can significantly reduce the area and number of brown spots on skin. When the concentration of nicotinamide is between 2% and 5%, it also has a certain effect on treatment of hyperpigmentation caused by chloasma and ultraviolet light. It is said that combination with N-acetylglucosamine is much better.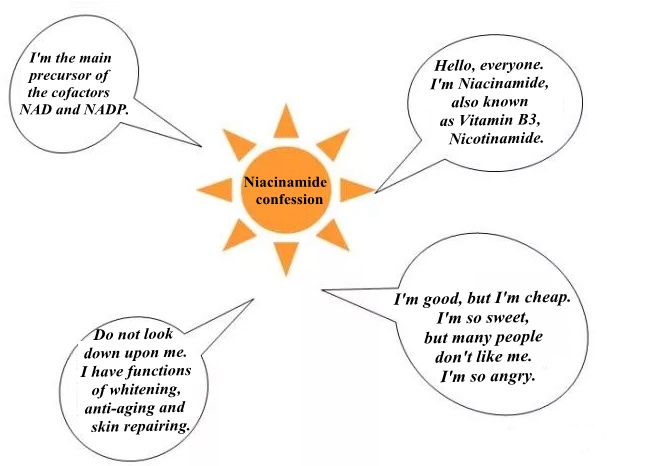 Another point of view is that nicotinamide also has an anti-glycation function. It can dilute the yellow color after protein saccharification. It helps to lighten and brighten skin.
NADH and NADPH directly determine the degree of aging of skin.

Studies have indicated that 5% nicotinamide can reduce wrinkles, erythema, yellowing and pigmentation on aging skin. Because nicotinamide has ability to stimulate collagen production, it can resist skin aging.
Improve skin barrier function
Ceramide is an important component of skin barrier. Niacinamide enhances skin barrier function by increasing ceramide content in stratum corneum. It reduces transepidermal water loss.
Nicotinamide uses for skin topically can increase the level of free fatty acids and ceramides in skin. It stimulates microcirculation of dermis, and prevens skin moisture loss. It also enhances protein synthesis (such as keratin), increases intracellular NADPH levels, and accelerates keratinocyte differentiation. In addition, Nicotinamide can alleviate skin irritation caused by surfactants or solvents.
Nicotinamide owns above-mentioned ability to improve skin barrier function, which means that nicotinamide has moisturizing property. A study shows that topically using 2% nicotinamide is more effective than vaseline (petroleum) in reducing skin water loss and increasing moisturization.
Limit oil secretion and tighten pores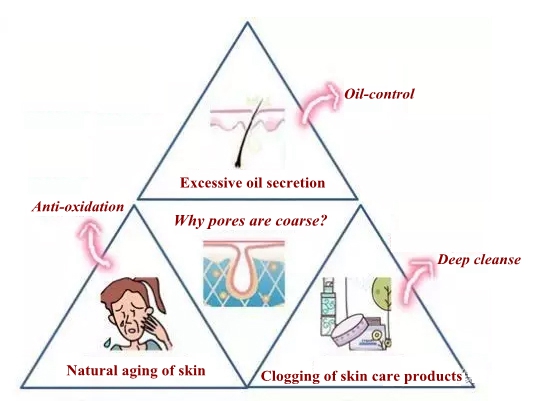 2% nicotinamide for external skin use can reduce the production of fatty acids and triglycerides in sebum. It has the effect of controlling oil secretion. Also it can shrink pores, and reduces the severity of acne. It is said that nicotinamide has a synergistic effect with sodium dehydroacetate. The reduction in oil secretion will also make skin pores look smaller.
Study shows that 4% nicotinamide gel is equivalent to 1% clindamycin gel (the main topical prescription for acne treatment) for inflammatory acne.
3. Nicotinamide Uses in Skin Care Brand
What really brings into the public's view is P&G. The company's two major beauty brands SK-II and Olay have added niacinamide to their products. In SK-II's main product "Aura Essence", nicotinamide is second only to the core ingredient yeast extract PiteraTM. In Olay's leading product, nicotinamide is the main component. Olay also claims that the brand has been researching nicotinamide uses for skin care more than 20 years. It has applied for a large number of patents.

Niacinamide-containing products have been extended from daily chemical products such as nicotinamide essence, nicotinamide cream, nicotinamide mask, nicotinamide serum, nicotinamide gel and body washes to health care including nicotinamide tablets.
4. Nicotinamide Deficiency/Side-Effect
The reality is that many people are allergic to products containing nicotinamide. Symptoms of allergies include skin redness, itchy, pain, etc. These symptoms are more likely to occur in cold, dry climates.
The cause of allergies is niacin in niacinamide. As mentioned above, nicotinamide has the best stability in a solution with a pH 6. In solutions with a pH above or below 6, it will hydrolyze to form niacin. Niacin uses for skin will cause skin irritation. Therefore, the formula containing nicotinamide generally controls pH between 5 and 7, which can reduce niacin formation.
Also, when using nicotinamide-containing products, try not to use them with acidic products, such as AHA, salicylic acid, etc.; their pH is generally about 2 to 4.
5. Nicotinamide Dosage/Concentration in Cosmetics
Nicotinamide dosage in cosmetics has also become a selling point. Studies have found that excessive concentration of nicotinamide or impurities can easily cause skin intolerance. Thus, niacinamide dosage in the market-saled products is between 2.5% and 5%. If niacinamide amount exceeds too much, be careful.
Plamed focuses in developing natural cosmetic ingredients. More information about Nicotinamide, please click into Nicotinamide.
If you want to buy Nicotinamide, please contact us in following way.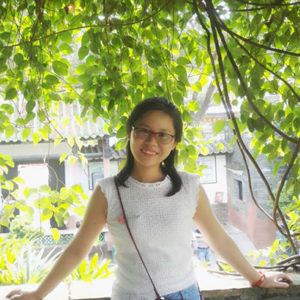 Rae Wong
Tel: +86-29-8821 5350
Mobile: +86 180 6683 3765
Email: sale@plamed.cn
Whatsapp: +86 180 6683 3765
Skype: plamed06
Wechat: 18066833765