1. Overview of Kojic Acid Dipalmitate (Kojic Dipalmitate)
Where to buy Kojic Acid Dipalmitate Powder with lowering Kojic Acid Dipalmitate price and high quality? As the professional Kojic Acid Dipalmitate suppliers, Plamed is your best choice.
Kojic Acid Dipalmitate (KAD) is a liposoluble derivative of kojic acid. It's also called 2- palmitoyl methyl -5- palmitoyl – pyranone. It has a greater ability to inhibit melanin formation than kojic acid. There is no hydroxyl group in its molecular structure, so it won't form hydrogen bond with other active ingredients in cosmetics to affect their functions, and it has a good compatibility. As a whitening agent, KAD is widely used in cosmetics industry.

Product Name
CAS Number
INCI Name
Kojic Acid Dipalmitate
79725-98-7
Kojic Acid Dipalmitate
Molecular Weight
Molecular Formula
Molecular Structure
C38H66O6
618.93g/mol
Product ID
Specificcation
Minimal Package
Minimal Order Quantity
PMB0801
98%
1KG
1KG
Kojic Acid Vs Kojic Acid Dipalmitate
| | | | | | | | | |
| --- | --- | --- | --- | --- | --- | --- | --- | --- |
| | Function | Mechanism | Easy to make formula | Stability | Stimulate | Effect | Safety | Price |
| Kojic Acid | Skin whitening, anti-bacterial | Tyrosinase inhibitor | ++ | ++++ | + | ++++ | ++++ | ++ |
| Kojic Acid Dipalmitate | Skin whitening, moisture | Tyrosinase inhibitor | +++++ | +++++ | – | +++++ | +++++ | +++ |
2. Kojic Dipalmitate Source
Kojic acid is a colorless, odorless, safe and effective tyrosinase inhibitor produced by fermentation. It exists in many brewing foods, including soy sauce, soybean, wine, and so on. The microorganisms that can produce kojic acid are aspergillus parasiticus, aspergillus oryzae , aspergillus flavus, etc. Japan began kojic acid production in the 1970s. Kojic acid is mainly applied in cosmetics and health care products; also it can be used as a natural preservative in the food industry.

3. Kojic Acid Dipalmitate Manufacturer Specifications
Items
Specifications

Assay

Kojic Acid Dipalmitate≥98%

Appearance

White sheet crystal powder

Melting point

92-96℃

Loss on Drying

≤0.5%

 Residue on ignition

≤0.5%

 Color reaction of ferric chloride

Negative

Heavy Metal

Total Heavy Metals

≤10ppm

As

≤2ppm

Microbiological Tests

Total Plate Count

≤300cfu/g

Total Yeast & Mold

≤100cfu/g
4. Process Flow Chart of Kojic Dipalmitate Manufacturer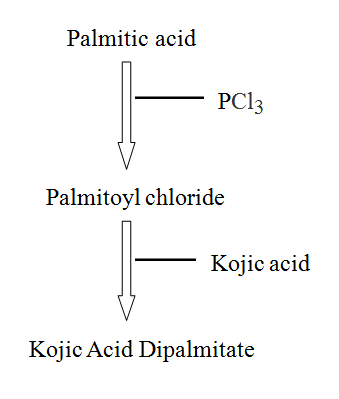 5. Kojic Dipalmitate Benefits
Skin-whitening
Kojic Acid Dipalmitate can effectively restrain the activity of tyrosinase. It can repair skin problems, including chloasma, age spots, pigmentation, etc. Moreover, it has effect of sun block and skin-lightening. KAD possesses a good skin-whitening function.

6. Characteristic
1. Good stability in heat and light; no color change.
2. Good oil solubility.
7. Application and Dosage of Kojic Acid Dipalmitate

| | | |
| --- | --- | --- |
| Application | Product | Reference Dosage |
| Cosmetics | Mask, essence, cream, moisturizer | 1% -3% |
Kojic Acid Dipalmitate application cases in cosmetics brand around the world:
Country

Brand

Product

Main ingredient

USA

Petal Fresh

Anti-Wrinkle Cream

Aqua (Water), Glycerin, Cetyl Alcohol, Stearyl Alcohol, Stearic Acid, Kojic Dipalmitate, Rubus Idaeus Fruit Extract, Punica Granatum Extract, Persea Gratissima Oil, Aloe Vera Leaf Extract, Camellia Sinensis Leaf Extract, Chamomilla Recutita Flower Extract, Rosa Canina Fruit Extract, Vaccinium Myrtillus Fruit/Leaf Extract, Saccharum Officinarum Extract, Citrus Aurantium Dulcis Fruit Extract, Citrus Medica Limonum Fruit Extract, Collagen, Vitamin A, Dehydroacetic Acid, Benzyl Alcohol, Fragrance

Palmer's

Dark Spot Corrector and Fade Serum

Kojic Dipalmitate, Hydroquinone, Retinol, Alpha Hydroxy Fruit Acids, Vitamin C, Vitamin E, Bilberry Extract, Shea Butter

DeVita

Skin Brightening Serum

Aloe Barbadensis, Magnesium Ascorbyl Phosphate, Capric/Caprylic Triglycerides, Olea Europaea Oil, Panthenol, Phyllanthus Emblica Fruit Extract, Kojic Dipalmitate, Arbutin, Persea Gratissima Oil, Centella Asiatica, Tocopherol, Nicotinate, Bearberry Leaf Extract, Citrus Paradisi Seed Extract, Thymus Vulgaris Essential Oil, Potassium

Sorbate.

8. Kojic Acid Dipalmitate Reference Formula
Anti-freckle and whitening mask:
Ingredient
Content(%)
Ingredient
Content(%)
Kojic Acid Dipalmitate
0.3

Silk protein

3.0

Ethanol

3.0

Polyacrylic acid

1.0

Methylparaben

0.1

Propolis

3.0

Squalane

2.0

Propylene glycol

5.0

Zinc Oxide

10.0

Kaolin

10.0

Fragrance

Appropriate amount
| | | | |
| --- | --- | --- | --- |
| Ingredient | Content(%) | Ingredient | Content(%) |
| Kojic Acid Dipalmitate | 0.15 | Oleyl alcohol polyglycol ether | 2.0 |
| Fragrance | Appropriate amount | Preservative | Appropriate amount |
| Potassium hydroxide | 0.03 | Polyethylene glycol | 2.0 |
| Placenta fluid | 8.0 | Purified water | Add to 100 |
| Glycerin | 5.0 | Ethanol | 10.0 |
Anti-aging moisturizing cream:
 
Ingredient
Content(%)
Ingredient
Content(%)
Group A

Atractylodes

5-10

Poria Locos

5-10

Ampelopsis japonica

5-10

Angelica dahurica

5-10

Common bletilla pseudobulb

5-10

Group B

Glycerin

3-8

Camellia Sinensis

1-3

Vitamin A

1-2

SOD

0.3-0.7

Kojic acid dipalmitate
0.5-2
 

Vaseline

20-40

Distilled water

10-15

Water

75-250
Preparation method:
Take Group A ingredients, smash and mix them well, then get mixture 1; Pour mixture 1 into water for 1 to 3 hours( ratio is 1:3), filtrate, and boil the filtration again, then filtrate again and get the filtration 2. Concentrate the filtration 2, then get filtration 3; add distilled water into Group B ingredients and heat to obtain mixture 4; heat vaseline until melting, then add filtration 3 and mixture 4, stir well and cool it, then get the cream.
9. Kojic Dipalmitate Safety
On the Announcement of Name List of Cosmetics Raw Material published by China Food and Drug Administration in 2014, and The Catalog Of the International Cosmetics Raw Material Standard English Name issued by CTFA ,EU and CAFFCI in 2010 both have recognized Kojic Acid Dipalmitate as a raw material of cosmetics. There is no reports showing its insecurity for external use. Kojic Acid Dipalmitate has a higher stability than Vitamin-C, so it is efficient and has no side effects.
10. Packing and Storage
Package: Packed in 25kg paper drums with two plastic bags inside.
Storage: Stored in a cool dry place away from direct sunlight and oxidizing agents.

Plamed focuses on natural cosmetic ingredients for more than 10 years. We have founded four subsidiary companies, which respectively develops different kinds of cosmetic raw material. Plamed is a company whose CEO is designated as the first secretary general of Shaanxi Plant Extraction Association.
Plamed Mission: To be the most professional supplier of natural cosmetics raw material.
As a professional Kojic Acid Dipalmitate manufacturer, Plamed have been constantly upgrading the production process. We firmly believe that good Kojic Acid Dipalmitate  and good Kojic Acid Dipalmitate price will help customers make good terminal products and help customers win a lasting and broad market.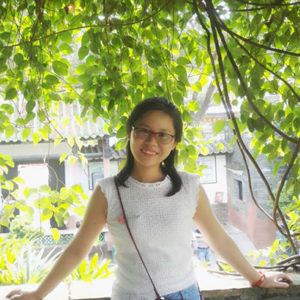 Rae Wong
Tel: +86-29-8821 5350
Mobile: +86 180 6683 3765
Email: sales03@plamed.cn
Whatsapp: +86 180 6683 3765
Skype: plamed06
Wechat: 18066833765
Other Skin-whitening Product List