Resveratrol is a polyphenolic compound widely found in plants. In 1940, Japanese first discovered resveratrol in roots of plant veratrum album. In the 1970s, resveratrol was first discovered in grape skins. Resveratrol exists in plants in trans and cis free forms; both forms have antioxidant biological activity. The trans isomer has a higher biological activity than cis. Resveratrol is not only found in grape skin, but also in other plants such as polygonum cuspidatum, peanuts, and mulberry. Resveratrol is a natural antioxidant and whitening agent for skin care.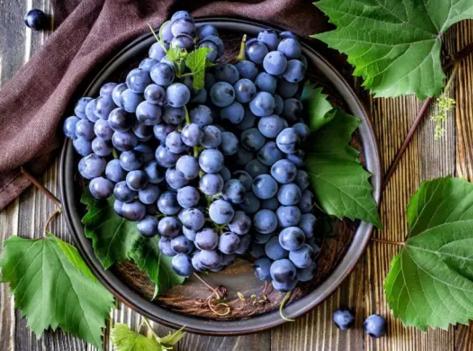 Resveratrol is the main raw material in pharmaceutical, chemical, health care, and cosmetics industries. In cosmetic applications, resveratrol is characterized by capturing free radicals, anti-oxidation, and anti-ultraviolet radiation. It is a natural antioxidant. Resveratrol can also effectively promote vasodilation. Moreover, Resveratrol has anti-inflammatory, anti-bactericidal and moisturizing effect. It can eliminate skin acne, herpes, wrinkles, etc. Therefore, Resveratrol can be used in night cream and moisturizing cosmetics.
1. Resveratrol Benefits for Skin
Resveratrol protects cells from oxidative stress; it is an antioxidant that activates the synthesis of other compounds. Resveratrol also regulates inflammatory response and even helps distribute the cosmetic sunscreen, so that it helps prevent UV damage to skin. A study in 2008 showed that topical application of resveratrol to skin can prevent UV-induced damage. Structural similarity allows resveratrol to replace estrogen in postmenopausal women. So resveratrol can reduce collagen loss and delay skin aging.
Resveratrol can also act as a skin lightening agent that inhibits tyrosinase activity. It also fights photo-aging by inhibiting synthesis of melanin. It makes skin whiter and less pigmented. It is confirmed in animal models that topical application of resveratrol inhibits melanin production, and reduces skin pigmentation after UV irradiation.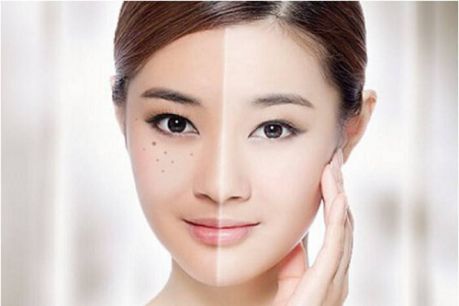 A 2002 study showed that resveratrol inhibits the growth of bacteria and fungi that cause skin infections, such as Staphylococcus aureus, lactococcus, and Trichophyton. Moreover, resveratrol can reduce the ability of skin cells to produce hydrogen peroxide. As the level of inflammation decreases, the cumulative damage in the cells also decreases. Even acne can be alleviated by use of resveratrol, because it has antibacterial property that controls growth of sebaceous gland cells.
2. Resveratrol Uses in Cosmetics
Resveratrol itself is sensitive to UV light. It is recommended for use with other sunscreens, or use at night to maintain its effectiveness. Night cream containing 1% resveratrol, 1% vitamin E and 0.5% baicalin can increase synthesis of collagen and other proteins. Also the formulation reduces fine lines and wrinkles, increases skin elasticity and dermal thickness.

Combined with green tea extract, resveratrol can reduce facial redness in about 6 weeks.

Resveratrol has synergistic effect with vitamin C, vitamin E and retinoic acid.

Resveratrol can reduce skin irritation caused by alpha hydroxy acid when used in combination with alpha hydroxy acid.

Mixing with butyl resorcinol (a derivative of resorcinol) has a synergistic whitening effect and can significantly reduce melanin synthesis.
3. Resveratrol Skin Care in Experiments
In a study, subjects uses a gel containing resveratrol for 60 days, and the number of acne reduces more than twice. Another study published in Clinical, Cosmetic and Research Dermatology in October 2012 shows that people who take orally resveratrol for more than 60 days have improved their skin condition. Age spots are also reduced. A study issued in the American Journal of Clinical Dermatology in 2011 discovered that resveratrol-containing gel is applied to skin for 30 days, acne was reduced by about 54%, according to data from the Global Acne Rating System (GAGS).

In a small study by Ferzli et al in 2013, 16 subjects with erythema use resveratrol formula with caffeine and green tea polyphenols twice a day for 6 weeks. Then erythema is reduced, and no adverse reactions are observed.
4. Resveratrol Side Effects
Although resveratrol is a natural polyphenolic compound, it is not advisable for pregnant women to use resveratrol-containing products (either orally or topically). Otherwise it may cause miscarriage.
5. Resveratrol Improvement in Cosmetics Application
Due to resveratrol's poor water solubility and poor stability, resveratrol submicron emulsion and resveratrol nanocrystallization are now used to improve its shortcoming.

Resveratrol and UV-filter can also be combined into a cosmetic formulation. The formulation has following advantages: 1) prevents UV-induced resveratrol decomposition; 2) enhances skin permeability, and improves bioavailability of effective active ingredients in cosmetics; 3) avoids recrystallization of resveratrol and 4) enhances stability of cosmetic formulation.
For cosmetic grade resveratrol, Plamed resveratrol does not add cheap synthetic resveratrol. Plamed resveratrol is of high purity and high activity. The color is whiter; it's suitable for cosmetics.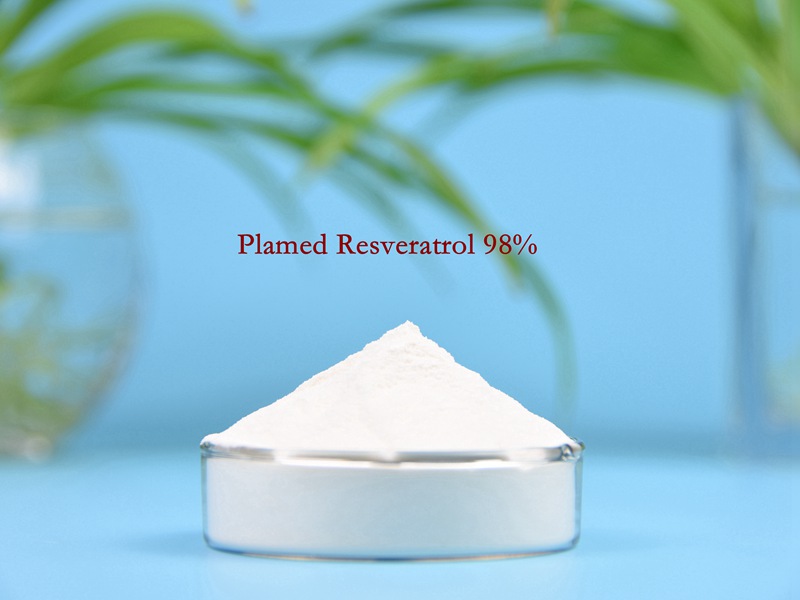 Plamed aims to develops natural cosmetics raw materials. Plamed Resveratrol is white color, high content, and low cost. If you want to get more information about Resveratrol, please click into: Resveratrol.
If you want to buy Resveratrol, please contact us in following way.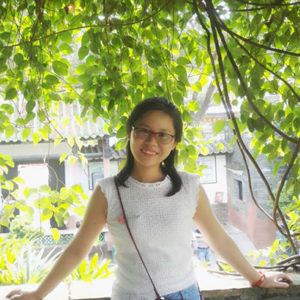 Rae Wong
Tel: +86-29-8821 5350
Mobile: +86 180 6683 3765
Email: sale@plamed.cn
Whatsapp: +86 180 6683 3765
Skype: plamed06
Wechat: 18066833765