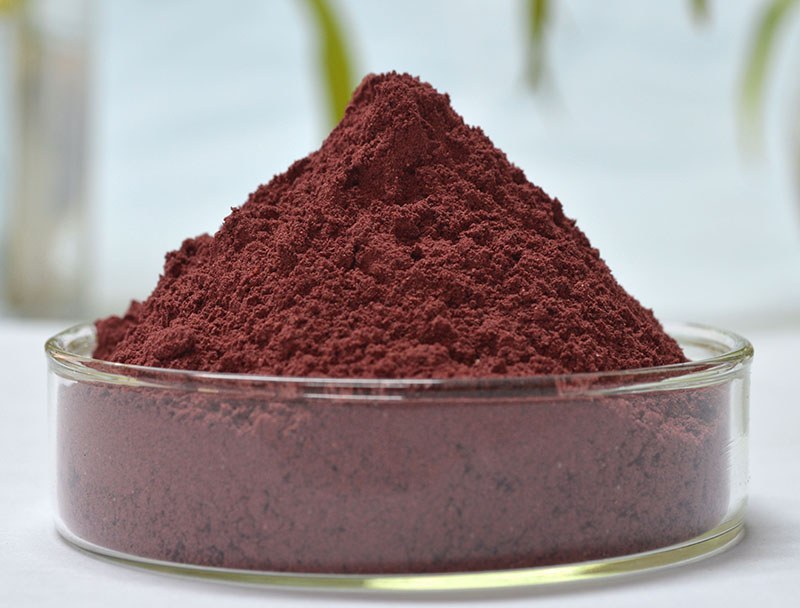 Introduction of Red Yeast Rice Extract
Red yeast rice is obtained through fermentation of Non-GMO rice with monascus purpureus which is made from high-quality & non-genetically modified rice with natural solid-liquid fermentation and state out of a natural lovastatin (Monacolin K), have a good stability and good effects on lowering cholesterol.
Red yeast rice, a great invention of ancient China was used as a Chinese medicine to strengthen spleen, improve the function of digestive system, promote the function of cardiovascular system. Modern clinical research shows that red yeast rice contains several physiological active matters, such as a Monacolin K, which can adjust abnormal blood lipid index, lower serum total cholesterol (TC), serum triglyceride, low density lipoprotein (LDL -C), and increase high -density lipoportein cholesterol (HDL-C). As a kind of nature dietary supplement or herbal supplement, red yeast rice is widely used in health food, herbal medicine, traditional Chinese medicine and etc.
Where Are Red Yeast Rice Extract Extracted From
This product is extracted from Red yeast is the product of rice fermented with Monascus purpureus yeast. Red yeast supplements are different from sold in Chinese grocery stores. People use red yeast as medicine.
Red Yeast Rice
Red yeast rice is a traditional Chinese medicine that has been purported to lower cholesterol. Several types of the extract are sold as supplements.
What Is Red Yeast Rice?
Red yeast rice is a substance that's extracted from rice that's been fermented with a type of yeast called Monascus purpureus. It's been used in China and other Asian countries for centuries as a traditional medicine. It's also used as a food coloring, additive, and preservative.
Red yeast rice naturally contains several ingredients that may help control cholesterol levels. These include a number of monacolins, most importantly monacolin K. It also contains sterols, isoflavones, and monounsaturated fatty acids, or "healthy fats".
Active ingredient of Red Yeast Rice
Monacolin K: the benefit of red yeast rice is attributed to the presence of HMG-COA reduetase inhibitor, that control the amount of cholesterol produced in the liver, it has been hypothesized that relatively high concentrations of unsaturated fatty acids and other natural compounds found in Red Yeast rice may work in concert with HMG-CoA reductase inhibitors to
Provide additional health benefit
Ergosterol: prevent osteoporosis.
Y-aminobutyric acid: reduce blood pressure.
Natural Isoflavone: prevent menopause syndrome and osteoporosis.
Characteristics of Plamed red yeast rice extract
We choose the pollution-free and organic rice as raw material for natural fermentation, no pesticide residues
Aflatoxin accords with European standards
We use 100% natural solid state fermentation
The proportion of the hydroxyl acid monacolin K and dehydro monacolin K is 6:4, it is easy to be absorbed
Citrinin strictly be controlled, Citrinin ≤0.05ppm
Heavy metal content is very low, lead ≤2.0ppm, arsenic ≤1.0ppm, mercury ≤0.05ppm, cadmium ≤0.1ppm
We have two GMP certified factories, one for sales and the other for producing
According to the requirements, we use high temperature sterilization, without irradiation sterilization
Red yeast rice Monacolin K content up to 3.0%
Is Red Yeast Rice a Drug or a Supplement?
Confusingly, the answer is both. One of the most important ingredients in red yeast rice is monacolin K. It's also known as lovastatin, the active ingredient in the prescription drug Mevacor.
So on one hand, red yeast rice is a traditional remedy that helps lower cholesterol. On the other, the pharmaceutical manufacturer of Mevacor argues that it owns the rights to the ingredient lovastatin.
How Well Does Red Yeast Rice Lower Cholesterol?
Studies have shown that red yeast rice can significantly lower levels of total cholesterol and specifically LDL, or "bad" cholesterol. One showed that taking 2.4 grams per day of red yeast rice reduced LDL levels by 22% and total cholesterol by 16% in 12 weeks. Another study showed that taking 1.2 grams per day lowered LDL levels by 26% in just eight weeks.
However, the studies of red yeast rice have so far been fairly small and didn't last long enough to reveal the long-term effects.
What Is the Correct Dosage of Red Yeast Rice?
Since research into red yeast rice is still in its early stages, experts still aren't sure of what the ideal dose should be. The amounts taken in some studies have varied from 1.2 to 2.4 grams per day.
Plant extract testing laboratory
Due to the complexity of plant extract and the deficiency industrial standards, one of our founders established a professional testing lab with an investment of 15 million RMB in 2014. The laboratory is equipped with five High performance liquid chromatography, one Gas Chromatograph, one Atomic Absorption Spectrometer, one Liquid mass spectrometry, one TLC scann.