Kojic acid dipalmitate (KAD) is a derivate produced from kojic acid. KAD is also known as kojic dipalmitate. Nowadays, kojic acid dipalmitate is a popular skin-whitening agent. Before introducing kojic acid dipalmitate, let's know something about kojic acid.
Kojic Acid is fermented and purified by glucose or sucrose under the action of koji. Its whitening mechanism is to inhibit both tyrosinase activity and N-DHICA oxidaSe activity. Also it can block dihydroxyindole polymerization. Kojic Acid is a rare single whitening agent that inhibits multiple enzymes simultaneously. There are kojic acid cream, kojic acid soap in the market. Kojic Acid uses for skin is gradually replaced by its derivatives.
However, kojic acid is unstable to light, heat and metal ion. It is not easily absorbed by skin. So kojic acid's derivatives came into being. Researchers have developed a number of kojic acid derivatives to improve performance of kojic acid. The derivatives not only have the same whitening mechanism as kojic acid, but also have better performance than kojic acid.
The most popular kojic acid whitening agent currently on the market is kojic acid dipalmitate (KAD). It is a diesterified derivative of kojic acid. It has been found that combination of KAD and glucosamine derivatives will increase skin-whitening effect.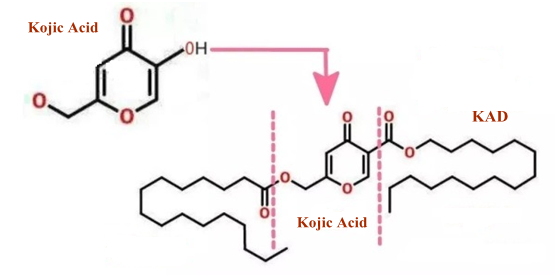 Kojic Acid VS Kojic Acid Dipalmitate
| | | |
| --- | --- | --- |
|   | Kojic Acid Dipalmitate | Kojic Acid |
| Molecular Weight | 618.93g/mol | 142.11g/mol |
| Physicochemical Property | White crystalline powder. Melting point is 92-96℃. | White to yellowish crystalline powder Melting point is 150℃-154℃. |
| Solubility | Insoluble in water, soluble in oil, propylene glycol. | Soluble in water, ethanol and ethyl acetate, slightly soluble in ether, chloroform and pyridine. |
| pH Stability | Stable from 3 to 10, which is flexible for formulation. | Unstable when pH above 7 |
| Color Stability | Does not complex with metal ions, and will not change color. | Easy to chelate with metal ions resulting in color change (yellow or brown). |
| Other Stability | Light and heat stable, not easy to be oxidized: 1% kojic acid dipalmitate cream will not change color when kept for 1 month at 45°C. | Poor stability of light, heat and metal ions, easy to be oxidized: 1% kojic acid cream will become yellow or brown when kept for 1 month at 45°C. |
| Compatibility | Compatible with most cosmetic ingredients, especially when combined with sunscreen. Kojic acid dipalmitate is oil soluble, and is more easily absorbed by skin when added to cream than kojic acid. | Due to potential hydrogen bond in its molecular structure, kojic acid is incompatible with some organic sunscreens and preservatives. |
Kojic Acid Dipalmitate Benefits for Skin
Whitening
Kojic acid dipalmitate has a strong inhibitory effect on melanin. Kojic acid dipalmitate is different from other whitening components such as arbutin. Its combination of copper ions prevents activation of copper ions and tyrosinase. Thereby, KAD can whiten skin.
Removing Spots
In addition, Kojic acid dipalmitate also reduces pigmentation caused by meralin pigment. It can promote skin metabolism, and quickly eliminate already formed melarin pigment. KAD fights against melasma, age spots, chloasma, stretch marks, freckles and other pigmentation.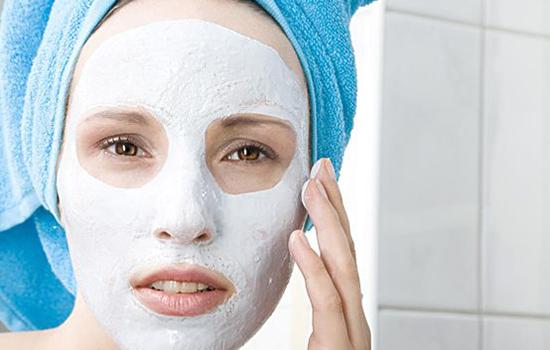 Kojic Acid Dipalmitate Formulation Tips
It is difficult to add kojic acid dipalmitate to cosmetics formulation, and it is easy to form a crystal precipitate. In order to solve this problem, it is recommended to add isopropyl palmitate or isopropyl myristate to oil phase containing kojic acid dipalmitate, and heat oil phase to 80°C, and keep it for 5 minutes until kojic acid dipalmitate dissolves completely. And then add oil phase to e aqueous phase, and emulsify for about 10 minutes. The pH of end product usually is about 5.0 to 8.0.
Kojic acid dipalmitate recommended dosage in cosmetics is 1-5%; its amount added in whitening products is 3-5%.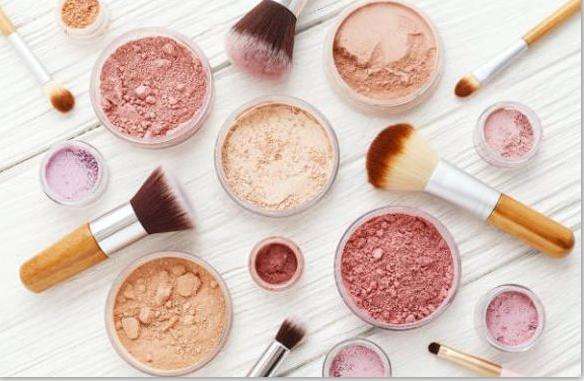 Plamed aims to develops natural cosmetics raw materials. Plamed Kojic Acid Dipalmitate is white color, high content, and low cost. More details about Kojic Acid Dipalmitate, please click into: Kojic Acid Dipalmitate.
If you want to buy Kojic Acid Dipalmitate, please contact us in following way.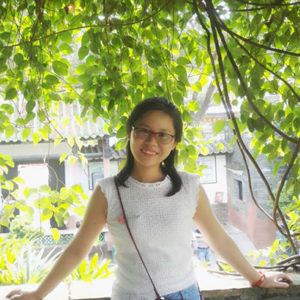 Rae Wong
Tel: +86-29-8821 5350
Mobile: +86 180 6683 3765
Email: sale@plamed.cn
Whatsapp: +86 180 6683 3765
Skype: plamed06
Wechat: 18066833765