Dipotassium Glycyrrhizinate (DPG) is an active ingredient extracted from liquorice root. Dipotassium glycyrrhizinate has various skin benefits. It is a skin conditioning agent that reduces peeling, restores skin flexibility, and improves dry and damaged skin. Anti-allergic, anti-inflammatory and soothing skin functions. Another clinical trial showed that dipotassium glycyrrhizinate can effectively treat atopic dermatitis.
1.Dipotassium Glycyrrhizinate Source
Dipotassium glycyrrhizinate is derived from the rhizome of leguminous licorice, and when it comes to licorice, there are three categories: Glycyrrhiza uralensis Fisch., Glycyrrhiza inflata Bat., and Glycyrrhiza glabra L. Dipotassium glycyrrhizinate is present in all of three licorices. Another common licorice extract—glabridin is only found in Glycyrrhiza glabra L. Therefore, Plamed first extracts dipotassium glycyrrhizinate from Glycyrrhiza glabra L., and then extracts glabridin.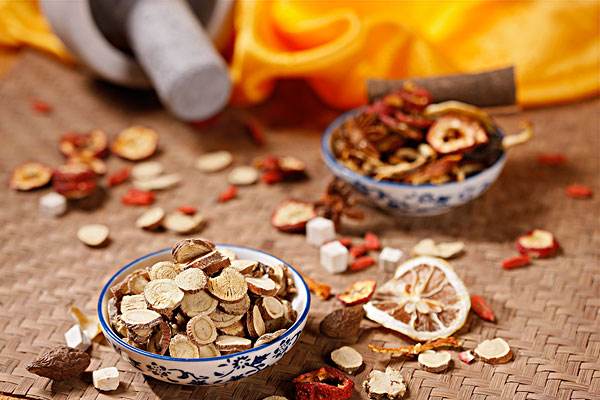 2. Dipotassium Glycyrrhizinate Skin Benefits
Study has shown that dipotassium glycyrrhizinate inhibits tyrosinase activity and melanin production. It is a potential skin whitening agent that prevents skin pigmentation.
Further research has shown that dipotassium glycyrrhizinate has anti-inflammatory property. It helps to alleviate the skin redness and irritation symptoms common to various diseases such as rosacea and psoriasis. Moreover, its oil-regulating properties inhibit the secretion of excessive skin oil from the sebaceous glands.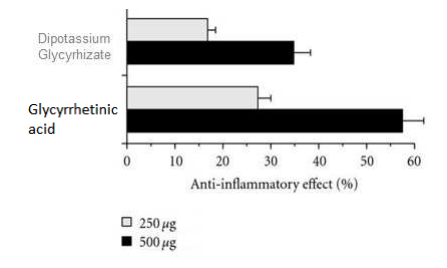 The healing effect of dipotassium glycyrrhizinate is mainly to relieve wound inflammation by reducing the number of granulocytes. Also it promotes formation of granulation tissue and rapid proliferation of fibroblasts; DPG increases the number of new capillaries, and accelerates process of tissue wound healing.
3. Dipotassium Glycyrrhizinate Side Effect
The US Food and Drug Administration (FDA) lists dipotassium glycyrrhizinate as Generally Recognized as Safe (GRAS).

Clinical trials indicate that dipotassium glycyrrhizinate does not irritate nor penetrate skin. It has no side effects.

The EU Cosmetics Directive and Cosmetic Ingredient Review (CIR) Expert Panel has determined that dipotassium glycyrrhizinate is safe and non-toxic as an additive to OTC personal care products.

Since dipotassium glycyrrhizinate is a component extracted from plants, CIR Expert Panel recommends that dipotassium glycyrrhizinate for cosmetic uses should control pesticides and toxic metal residues are below acceptable levels. Plamed dipotassium glycyrrhizinate adopts the Korean cosmetics standard; and we controls pesticide residues and heavy metals below safe level. It is more suitable for cosmetics preparation.
4. Dipotassium Glycyrrhizinate for Cosmetics Preparation
Dipotassium glycyrrhizinate is soluble in water; it has good water solubility. Also it is soluble in glycerol and propylene glycol. Its molecular structure contains both hydrophilic and lipophilic groups. So DPG can reduce the surface tension of aqueous solution; it is a great surfactant. DPG has the ability of self-emulsifying and stabilizing emulsion. It can reduce emulsifier content in cosmetic formulation. Dipotassium glycyrrhizinate has a wide range of compatibility in cosmetics formulation.
Dipotassium glycyrrhizinate forms into a gel in aqueous solution or mineral acid when pH is less than 4.
Dipotassium glycyrrhizinate is hygroscopic, so it should be kept under seal.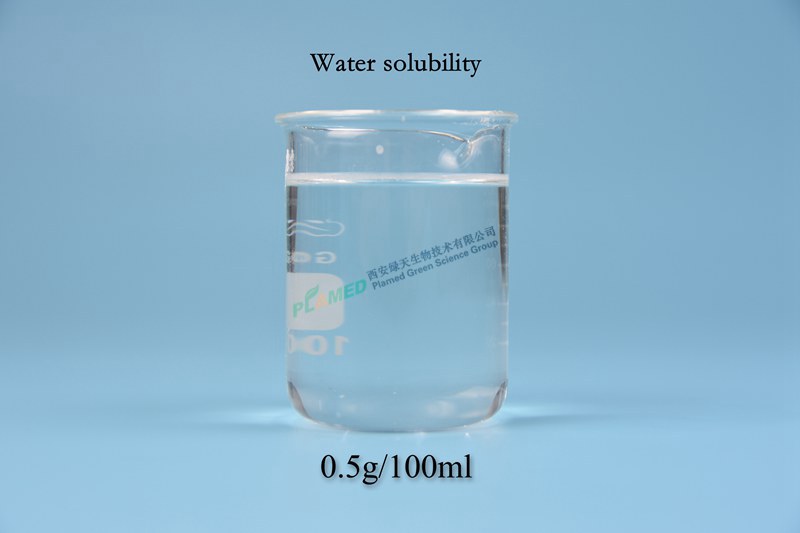 5. Dipotassium Glycyrrhizinate Application in Cosmetics
Dipotassium glycyrrhizinate is not only suitable for hair and skin care, but also for oral care.
Skin care: anti-inflammatory-suitable for treatment of skin inflammation such as wounds, eczema, burns; care for sensitive, fragile and irritating skin. Whitening-inhibit melanin production and brighten skin tone.
Hair care: relieve itchy scalp.
Oral care: treatment of gingivitis; oral hygiene and dental protection.
6. Dipotassium Glycyrrhizinate Dosage
Dipotassium glycyrrhizinate is added in cosmetics at concentration up to 1%.
The figure below shows concentration of dipotassium glycyrrhizinate prescribed by CIR Expert Panel in cosmetics and personal care products.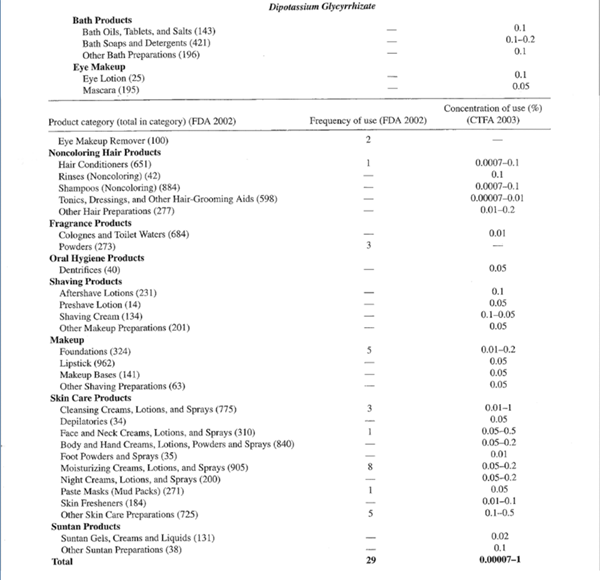 Plamed aims to develops natural cosmetics raw materials. Plamed Dipotassium glycyrrhizinate is white color, high content, and low cost. More details about Dipotassium glycyrrhizinate, please click into: Dipotassium glycyrrhizinate.
If you want to buy Dipotassium glycyrrhizinate, please contact us in following way.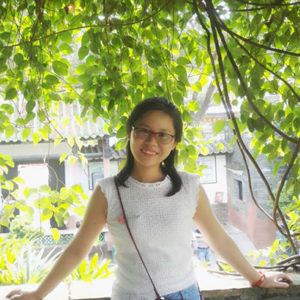 Rae Wong
Tel: +86-29-8821 5350
Mobile: +86 180 6683 3765
Email: sale@plamed.cn
Whatsapp: +86 180 6683 3765
Skype: plamed06
Wechat: 18066833765