1. What is Osthole?
Osthole, also known as Cnidium Monnieri Fruit Extract, is a coumarin compound. It has a high content in Cnidium Monnieri (She Chuangzi), so it is named as osthole
2. Where dose Osthole Come From?
In 1909, Herzog and Krohn first obtained osthole from roots of Peucedanum Ostruthium. At present, osthole is widely distributed in the plant, mainly in family of Umbelliferae and Rutaceae; also it is found with a small amount in Compositae and Leguminosae. Osthole in the market is mainly extracted from the dried mature fruit of the umbelliferous plant Cnidium. Cnidium mainly grows in Guangxi, Jiangsu, Anhui, Shandong, Hebei in China. It is mostly wild plant.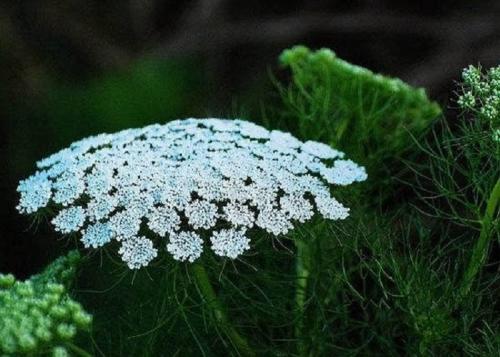 3. Osthole Benefits & Uses
Osthole has a wide range of biological activities, and is widely used in cosmetics, medicine, and agriculture.
Anti-allergic: Osthole has strong anti-histamine effect. It can significantly antagonize histamine, chronic reaction substances. It is good for treatment of allergic skin diseases such as eczema, pruritus, urticaria, etc. Therefore, Osthole can be added in anti-allergic cosmetics.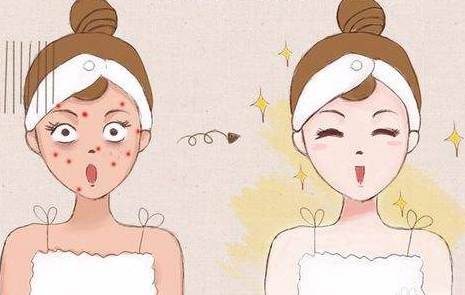 Sterilization and relieving itching: Osthole can kill trichomonas vaginalis. It inhibits various fungi, and prevents gynecological diseases. Thus, it mostly used in gynecological wash and care products.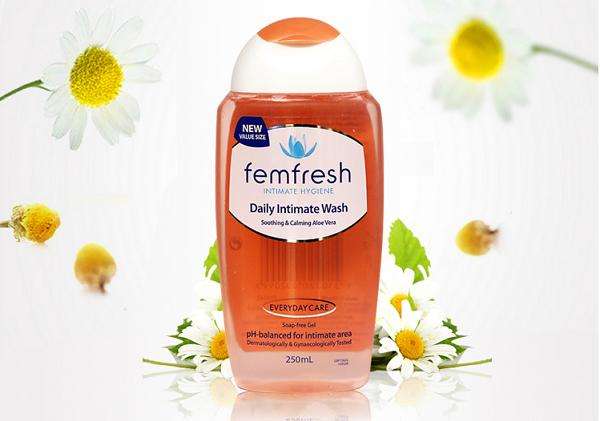 Anti-pathogenic microorganisms: Osthole has inhibitory effect on epidermophyton floccosum, bacillus, and broad-spectrum bacteria. It can inhibit the formation of various inflammatory factors. Accordingly, Osthole can greatly treat facial acne and pimple. It can be used in anti-inflammatory cosmetics.
Osthole has antispasmolytic, antihypertensive, antiarrhythmia, and antibacterial effects. Cnidium monnieri fruit extract is good for body-building. It also is an effective pharmaceutical ingredient that can be used in pharmaceutical industry.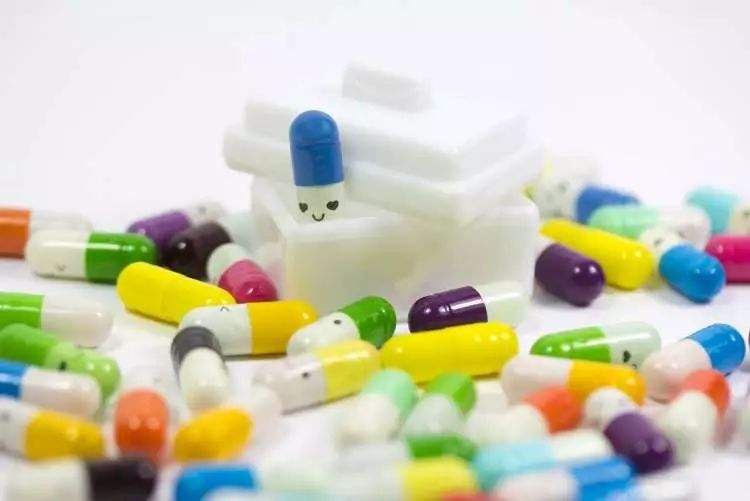 As a new type of biological pesticide, Osthole has an inhibitory effect on pests and plant pathogenic bacteria. It is an effective plant-derived insecticide.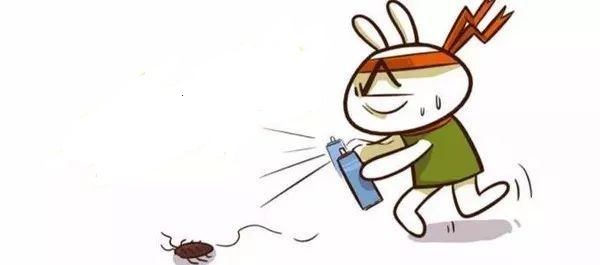 4. Osthole Specifications & Appearance
There are several osthole specifications: 10%, 35%, 50%, 80%, 90%, 95%, 98%.
Plamed focuses on developing 98% osthole that is a natural cosmetic grade ingredient.
The low purity osthole is yellow-green fine powder, while the high purity osthole is yellowish green to white fine powder.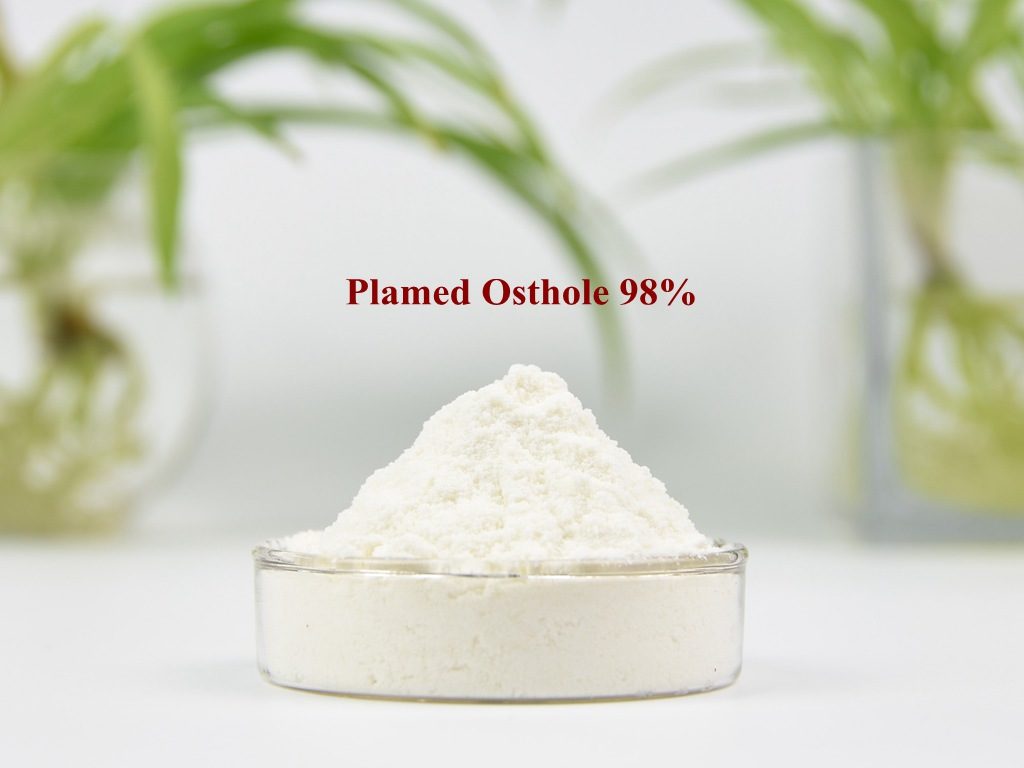 5. Osthole Physicochemical Property
Solubility: Osthole is soluble in methanol, ethanol, chloroform, acetone, ethyl acetate and boiling petroleum ether, but is insoluble in water and petroleum ether.
Osthole's melting point is 83-84℃; boiling point is 347.2℃.
There is no decomposition in pH 5-9 solution.
Chemical properties are unstable. When exposed to light, Osthole is easy to be decomposed. It is light blue under ultraviolet light.
If you want to know more about Osthole, please click this: Osthole.
6. How to solve poor water solubility of osthole in cosmetics preparation?
Osthole is poorly water-soluble. So it is not directly used in cosmetics. Generally, clathration is adopted to solve this problem. Otherwise, the cosmetic containing osthole is easy to produce impurity, and affect the absorption of its active ingredients.
Plamed Engineer Chen uses Osthole's characteristics and various phases of cosmetics preparation. He heats and dissolves osthole in a fat-soluble excipient or carrier to preparing cosmetics. And then mix with other active ingredients. The method does not need to clathrate of osthole, and can overcome the disadvantages of poor water solubility. The method has a cost advantage.
NOTE: The above excipients or carriers include but are not limited to: solvents, preservatives, pH regulators, moisturizers, osmotic agents, thickeners, chelators, emulsifiers, fragrances, pigments, etc.
7. Osthole Application in Cosmetics
Osthole is mainly used in anti-acne and anti-inflammatory cosmetics. It can be added to skin care products, including essence, mask, lotion, cream, emulsion, gel and so on.
98% osthole are generally used as cosmetic supplement, because of its high purity, white color. So it is suitable for making cosmetics.
98% osthole's dosage in cosmetics is generally 0.5-1.0%.
Osthole is generally added to the cosmetics with other active ingredients such as paeoniflorin and Sophora flavescens extract. They have synergistic effect.
8. Osthole Price survey
Osthole price is mainly affected by raw materials. Before 2009, the price of raw materials was 6-8 RMB/kg. In 2010, it was about 15 RMB/kg. In 2012, it was about 22 RMB/kg. In 2013, it was 28-30 RMB/kg. In recent years, high quality raw materials' price is about 45/kg.
Taking 98% osthole as an example, the raw material content is about 1.1%. The extraction ratio is about 130:1. The raw material cost is about 6,000 RMB, plus the production cost, packaging freight, tax payment fee, company profit, etc. The cost price is nearly 7,000 RMB. So the market price of 98% osthole is 7200-8000 RMB/kg.
Although the price is rising, customers will still choose to purchase osthole. Because there is no similar product within a short time to replace osthole. Additionally, osthole comes from wild raw materials, and 100% natural extraction. It has good benefits and no side effects.
9. Plamed Osthole Advantages
98% osthole is white fine powder. It is more suitable for preparing cosmetics.
Plamed owns Cnidium Monnieri planting base. We can ensure the quality of raw materials and stable osthole supply.
A professional technical team is engaged in production of osthole for more than 10 years. Plamed strictly controls quality.
First extract Cnidium oil and then extract osthole. So the cost is more advantageous.
HPLC method is used for detection.
Plamed focuses in developing natural cosmetics ingredients.  Click here for more details of Osthole: Osthole.
If you want to buy Osthole, please contact us in following way.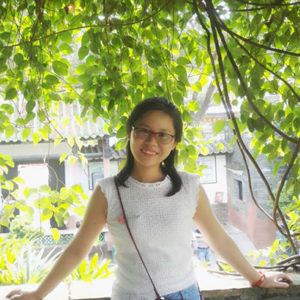 Rae Wong
Tel: +86-29-8821 5350
Mobile: +86 180 6683 3765
Email: sales@plamed.cn
Whatsapp: +86 180 6683 3765
Skype: plamed06
Wechat: 18066833765