1. What is Ceramide?
Ceramide is a kind of sphingolipid composed of sphingosine and fatty acids. It can be found in stratum corneum of human skin, up to 50%. This is why ceramide has a repairing effect on skin. Ceramide for skin care mainly shows in ceramide cream, ceramide lotion, ceramide moisturizer, ceramide serum, etc.
2. Ceremide Benefits for Skin
The stratum corneum of skin is like city wall. And ceramid is mortar between bricks on the wall. If skin lacks ceramide, just like building a house without mortar on the bricks, the wall will inevitably fall. So ceramide plays a vital role for skin. It forms a protective film that makes skin firmer. Ceramide prevents skin moisture loss, and protects skin from pollution and other environmental stresses. It acts as a barrier to repair skin.

Ceramides have the following main effects on our skin:
1) Barrier effect: The skin barrier function as skin to block foreign matter immersed into skin tissue; and it is related to skin lipid. As the main component of skin lipids, ceramides form the wall of skin and act as a barrier to protect skin.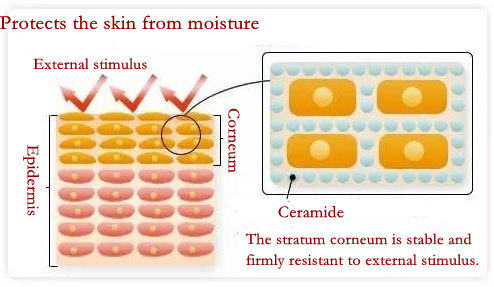 2) Moisturizing effect: Ceramide has a strong ability to associate water molecules. It maintains skin moisture through network structure formed in stratum corneum. Thus it prevents water loss. Applying 0.2% ceramide solution to dry skin, skin moisture recovery is remarkable. The structure and roughness of skin are also improved.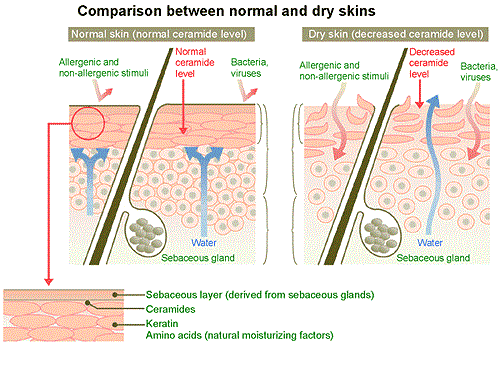 3) Water retention: The structure of ceramide contains a large number of hydrophilic groups. So it has good affinity for water. It can promote epidermal hydration, and increase epidermal cell cohesion. Also ceramide prevents skin becoming dry and desquamate. It keeps skin smooth and elastic, penetrates into deep epidermis, and makes dry skin regain the ability to retain moisture. Ceramide can activate aging cells, promote epidermal cell division and basal cell regeneration. Ceramide is known as the "King of Hydration". It is 16 times more moisturizing ability of hyaluronic acid, especially for elderly dry skin.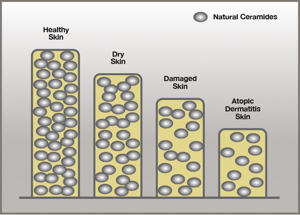 4) Anti-aging: During skin's aging process, lipid synthesis decreases. Accordingly, ceramide content in stratum corneum also decreases. Replenishing ceramide to skin can increase its content in the stratum corneum, which can improve dry skin, desquamation and roughness. At the same time, ceramide can increase thickness of skin's stratum corneum. It improves skin's ability to hold water, and reduces wrinkles. Thereby it can delay skin aging.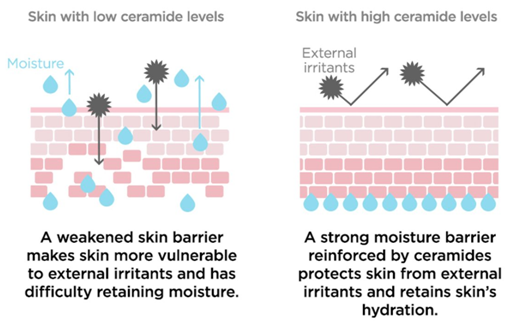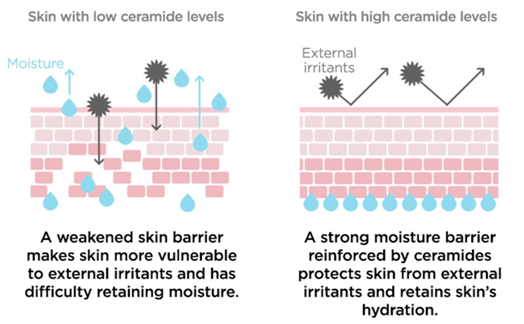 3. Studies on Ceramide for Skin Uses
Many studies through
mice experiments and a large number of blind tests have shown that ceramides
can be applied for topical skin and have certain skin care effects.
A Japanese study
shows that ceramide extracted from plants enhances moisturizing function of skin,
compared to placebo.
A article published
in the Journal of Clinical and
Experimental Dermatology finds that topical ceramides not only repair skin
barrier, but also protect skin from surfactants.
A study by Kao Corporation in Japan shows that 8% ceramide E cream can increase skin moisture and improve atopic dermatitis. It should be noted that although many experiments use 8% concentration ceramide, in fact, the dasage of ceramide in skin care products is generally less than 1%. The recommended amount is generally between 0.1% and 0.5%.
As mentioned in The Textbook of Cosmetic Dermtology, a ceramide-containing formulation can provide a better repairing effect for skin (compared to placebo).
4. Ceramide's Combination with Other Skin Care Ingredients
Ceramide is most effective when combined with lipids such as fatty acids and cholesterol. The natural ratio of these three in skin is 10:5:3. Currently, only one patent discloses that the ratio is 3:1:1 when it is compounded into cosmetics. The three have synergistic effect. And this combination is ideal for improving skin tone, and texture, and relieving sensitive skin.
However, no single ingredient can completely resist aging. So ceramide can be compounded with other antioxidants such as retinol, nicotinamide, linoleic acid, and peptides. In addition, the American cosmetics company Paula's Choice recommends the combination of salicylic acid(BHA), alpha hydroxy acid(AHA)and ceramide into exfoliating cosmetics, which can relieve irritation of exfoliating ingredients.
5. Supplement Ceramides for Skin
Even if ceramides naturally exist in skin, the amount of ceramide in skin decreases with age and external environment. Many skin problems, such as atopic dermatitis, eczema, skin redness, hormone face, oily skin, sensitive and dry skin, etc., are due to a decrease of ceramide content in skin. Therefore, it is necessary to supplement the skin with certain ceramides for specific skin conditions.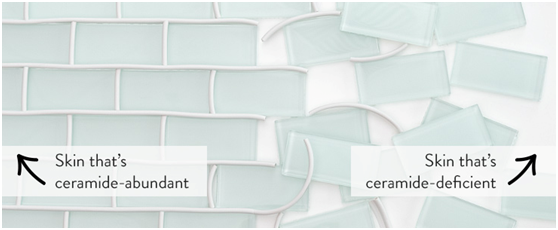 6. Ceramide Types and Sources
SCCS lists ceramides' types in Safety Assessment of Ceramides as Used in Cosmetics published in 2015 as following:

Nowadays, there are synthetic ceramides and natural ceramides. Natural ceramides can be found in rice bran, wheat germ, corn, potatoes and so on.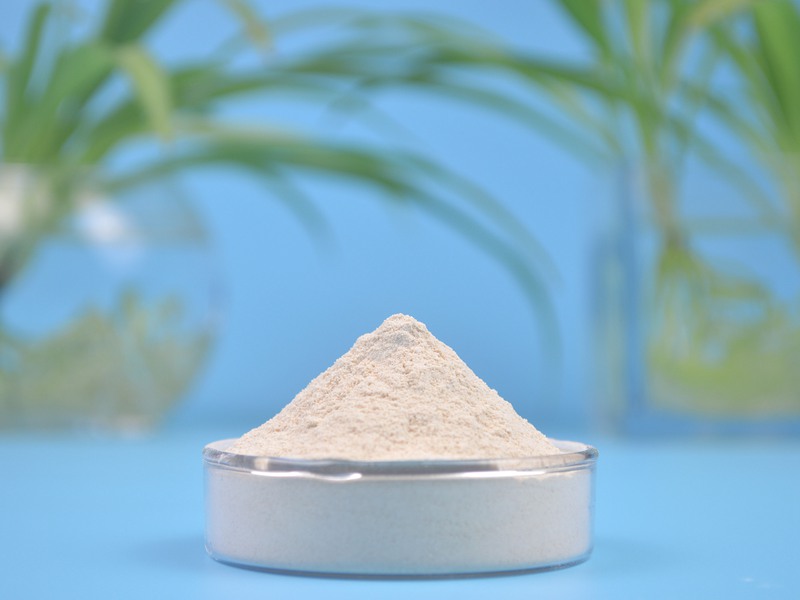 Plamed mainly develops ceramide 3. Plamed Ceramide 3 comes from wheat germ. It is a natural cosmetics ingredient with skin care functions. We owns several specifications of ceramide 3, including ceramide 1%, ceramide 5%, ceramide 10%, ceramide 30%.
Plamed aims to develops natural cosmetics raw materials. Plamed ceramide is white color, high content, and low cost. More details about ceramide, please click into: Ceramide.
If you want to buy ceramide, please contact us in following way.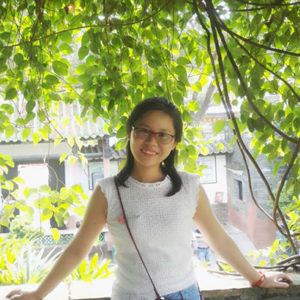 Rae Wong
Tel: +86-29-8821 5350
Mobile: +86 180 6683 3765
Email: sale@plamed.cn
Whatsapp: +86 180 6683 3765
Skype: plamed06
Wechat: 18066833765